The Proceq Profoscope Rebar Locator is Designed for Fast, Accurate Diagnosis
---
With its unique real-time rebar visualization allowing the user to see the rebar beneath the surface, the job can be performed fast and efficiently saving both time and money.


Applications Include
Rebar location
Measurement of concrete cover depth
Measurement of rebar diameter
Rebar map out and cover corrosion studies
Rebar analysis for structural analysis
The instrument is typically used by general contractors, civil contractors, drilling specialists, electrical contractors, educational institutes, building inspectors and civil contractors.

Graph Showing Cover Depth and Bar Size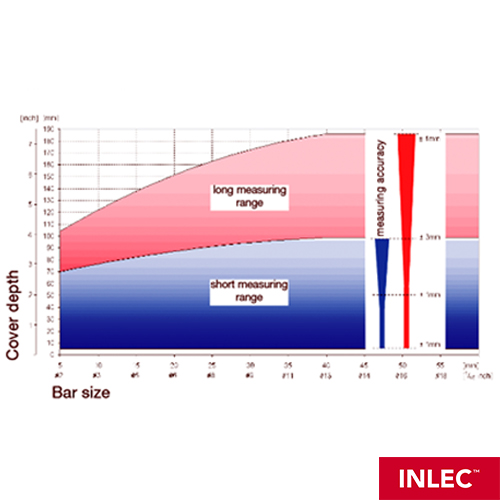 (Right Click and open image to expand)

Product code: INL480
Depot: RDC
Designed for fast and accurate diagnosis
Concrete cover depth can be diagnosed
Simple, easy design
Clear LCD screen
Dimensions: h.200mm w.85mm d.35mm
Weight: 340g
Datasheet
You will receive next day UK delivery to your door when ordering from Sunbelt Rentals Test & Monitoring . All weekday orders confirmed before 3:00 pm will be delivered to you the next day. If you do not receive delivery by the requested delivery time we will refund your delivery charge in full.
Deliveries are made through our own delivery vehicles and by National Couriers.
Next day delivery is our standard service however, please enquire for any of the following which we will endeavour to provide at extra cost:
pre 10:30 delivery;
pre 12:00 delivery;
Saturday or Sunday delivery;
Same day delivery;
In addition to nationwide delivery we also ship to EU and worldwide, please call our Customer Services team on our number above for prices.
To see our delivery performance click here!
*Applies to Mainland UK excluding certain hard to reach areas such as the Highlands, if you are unsure please contact us for clarification.
Deposits
If you do not have a credit account with Sunbelt Rentals Test & Monitoring , you may be required to pay a security deposit and be subject to a credit check. Please feel free to contact us and we will do our best to accommodate your needs.